Canadian Tire
Establishment, car repair, home goods store and hardware store at 345 Miramichi Road, Oromocto, NB E2V 4T4, Canada. Here you will find detailed information about Canadian Tire: address, phone, fax, opening hours, customer reviews, photos, directions and more.
Opening hours
| | |
| --- | --- |
| Sunday | 10:00am — 05:00pm |
| Monday | 08:30am — 09:00pm |
| Tuesday | 08:30am — 09:00pm |
| Wednesday | 08:30am — 09:00pm |
| Thursday | 08:30am — 09:00pm |
| Friday | 08:30am — 09:00pm |
| Saturday | 08:00am — 09:00pm |
Rating
4 /5
Based on 5 reviews
Photos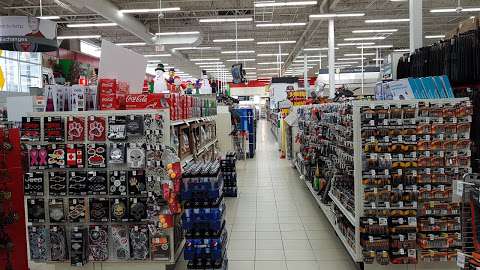 Reviews of Canadian Tire
J. Rice Added 2019-08-13

★ ★ ★ ★ ★

Amazing service and wonderful manager/mechanic!




My girlfriend and I were on our way back to Cape Cod, MA. from PEI, when her dashboard lights began to blink like a Christmas tree.




Being 10+ hours from home, we were horrified that something major was wrong.




Fortunately, we found Canadian Tire at the next exit. The manager, Christina, listened to our concerns and was able to get our car in right away for a diagnostic check.




The mechanic, Jorge, is great. He explained everything in layman's terms, and went with me on a test drive. To keep it short, he explained that the vehicle seemed fine in spite of the dummy lights, and told me the light show on the dash was likely just a computer glitch rather than a major issue (transmission) that would require us to take the vehicle to a specialty repair shop, thus spending the night and untold amounts of money for what might just be a bug in the system.




We felt much better about the drive and I'm overjoyed to say that we made it home safely, and on time for work the next day.




I cannot thank Christina and Jorge enough. They not only went out of their way to be friendly and sympathetic, but they also charged us less than the full diagnostic fee!




This is why I love Canada... just don't get that level of honesty and service where we live

Richard Law Added 2018-10-24

★ ☆ ☆ ☆ ☆

They had a sale on tires, Goodyear Duratrac in this case for $187/tire, so I went for it and had them ordered in. The young guy working parts ordered the highest of the three options without telling me and my final cost per tire was $267. Great tire, service was quick but I wasn't expecting to spend an extra $240 without even a heads up from parts saying which model of the Duratrac they were ordering. Of course I only found out after they were installed and the service basically just said tough luck, they usually sell for $353. Cool beans bro, I was still expecting to pay around $187. Be specific with them or they'll upsell you.

Gavin Robichaud Added 2018-10-22

★ ★ ★ ★ ★

Probably my favorite C tire. The staff and always happier and more helpful then any other store I've been to. Plus they encourage you to bring your dog. I can't say I'm the biggest fan of crappy tires but I'll shop at this one.

Kevin Vienneau Added 2018-10-11

★ ★ ★ ★ ★

Probably one of the best cdn tires I've been too. All around great service and good deals. I'm there often.

Sean Oakley Added 2018-10-05

★ ★ ★ ★ ★

Was cycling long distance, needed new tires and tubes. They pulled the bicycle mechanic off of his grass cutting duties in order to fix my bike. He replaced the tires, tweaked a few cables and settings. I was on my way in 45 minutes all for $10. Incredible value. The gentleman was professional, knowledgeable, helpful, and great to deal with. Thank you, this store is ran very well indeed.

Peter Keddy Added 2018-09-06

★ ★ ★ ★ ☆

Very satisfied with the hunting/outdoors section. Very good selection of rifles and ammunition. Overall I've had really good luck with this store except the occasional time sale items are sold out quickly but that's the same with any Canadian Tire.
About canadiantire.ca
Canadian Tire | English | Canadian Tire
Get everything you need for the holidays: Christmas decorations, housewares, treadmills, snowblowers, winter tires—plus tons of great gift ideas!